Integrated Health
THE CONTENT OF THIS PAGE IS OPEN ONLY TO IFSO MEMBERS. TO WATCH THE FULL VIDEOS PLEASE LOG IN IN THE MEMBERS' AREA
IF YOU FORGOT YOUR CREDENTIALS TO LOG IN PLEASE CONTACT info@ifso.com
Close
Cook Book
N.B: Online access to the Coobook has been granted by IFSO only to its members. Download, Share, Print is Unavailable You are viewing a complimentary shared file. Complimentary shares do not allow downloading/sharing/printing. Hard copies of the cookbook are available for sale. Please contact info@ifso.com to oder your copies. Thank you!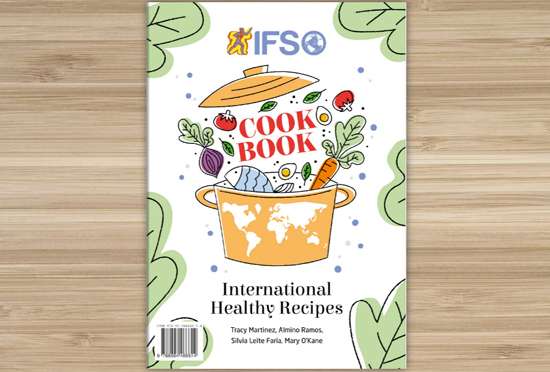 Our Integrated Health Committee dieticians, Mary O'Kane (UK-EC) and Silvia Leite Faria (Brazil-LAC) have reviewed each recipe for nutritional information and guidance.
We hope you enjoy integrating these recipes into your healthy eating plan and healthy lifestyle. We would also like to express our gratitude to each of the authors for their contributions.
Remember: We Are What We Eat!
---
Mission Statement
IFSO Integrated Health Members are dedicated to continually strive for clinical excellence in the care they provide to bariatric and metabolic surgical patients. This dedication is evident by the knowledge we seek to provide optimal patient care in our individual countries, as well as the collaboration and knowledge shared among our international colleagues.
The Integrated Health (IH) section of IFSO consists of a diverse group of professionals who provide a continuum of care for the metabolic and bariatric patient.
Who are Integrated Health Professionals?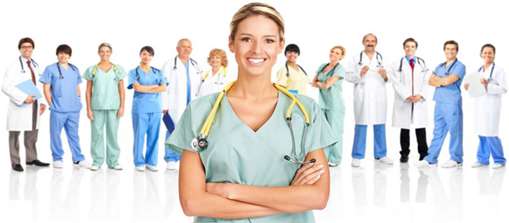 An IFSO Integrated Health professional is a member of the health care team that supports individuals who suffer from morbid obesity as they progress through the surgical pathway of Bariatric and Metabolic Surgery. The Integrated Health Care professional should be dedicated to possess specialized expertise in their discipline to provide safe evidence based care, education and long term support to maximize patients short and long-term outcomes.
Members should be committed to working collaboratively and integrated for optimal care of the Bariatric and Metabolic surgical patient.
Integrated Health professionals prepare, counsel and support in order to optimize the benefits of metabolic surgery. The Integrated Health professional is there to identify, intervene and teach positive behavioral, emotional and provide interventions that affect long-term outcomes.
IFSO Integrated Health members consist of all supporting positions in metabolic and bariatric surgery, from nurses to therapists to data entry personnel. Together, Integrated Health professionals help in the holistic and long-term follow up care of the patient. Here are just a few of the more common Integrated Health professions:
Coordinators
Advance Practice Nurses
Nurses
Dieticians
Exercise Physiologists
Exercise Coordinator
Psychiatrists
Psychologists
Endocrinologists
Internists
Obesity Medicine Specialists
Pharmacologists
Physical Therapists
Physician Assistants
Behavioral Health Clinicians
Researchers
Clinical Reviewers
Registered Dietitians
Become an IFSO Integrated Health Member
IFSO welcomes all Integrated Health Professionals in the field of Metabolic and Bariatric Surgery.
Why Join IFSO?
Subscription to the digital and print versions of Obesity Surgery at a discounted price.
Discounted registration to IFSO World Congress, IFSO Chapters' Meetings and IFSO endorsed meetings.
Your practice and contact information in our membership registry, accessible by patients. Access to members-only documents and online resources in the Members' Area of www.ifso.com
Email alerts about new published research findings, political events and Federation highlights.
Opportunities to join IFSO committees that impact research, education, patient access, innovation, communication and public service in the field of metabolic and bariatric surgery.
Application Process
If you live in a country where there is a national society for bariatric surgery you can join IFSO through your National Society. To check if your Country has a national society that is member of IFSO please click here: http://www.ifso.com/ifso-member-societies
If you live in a country where there is no national society for bariatric surgery you can join IFSO as individual member by clicking on the following link: www.ifso.com/join-ifso
IFSO Integrated Health Committee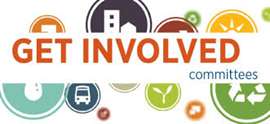 The appointment is for a term
Responsibilities:
Prepares for and participates in the discussions and deliberations of the committee, attending all face-to-face and conference call meetings.
Takes a proactive approach to committee work. Working on committee projects throughout the year as directed by the committee chair.
Responds within 72 hours to committee chair messages, whenever possible.
Minimum time requirements:
One face-to-face meeting at IFSO World Congress and conference-calls if needed
Meet Your Integrated Health IFSO Committee

Mary O'Kane, RD: Chair (UK)

Silvia Leite Faria: Vice Chair(Brazil)

Blanca Rios – Past Chair (Mexico)

Karen Flanders, MSN, ARNP, CBN (USA)

Marisa Stroppa (Brazil)

Andrea Schroeder (New Zealand)
Cristina Aquino (BR)
Member focus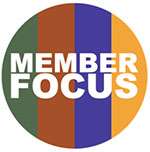 Member Profile Andrea Schroeder, RN
Interviewed by Tracy Martinez RN, BSN,CBN
IFSO Integrated Health Chair
1. What is your professional background?
I have been a registered nurse for the last 30 years. I began in perioperative nursing back in 1989 and started in Bariatrics in 1999 in Melbourne, Australia. I am currently the Director of a Weight Loss Surgery program and a residential retreat facility for post bariatric surgery participants in New Zealand, I operate a bariatric vitamin supplement company and have just recently opened an F45 Training boutique gym studio.
2. What lead you into Bariatric Surgery specialty?
When I was working in perioperative nursing in Melbourne, I worked closely as a surgical assistant with a bariatric surgeon, Harry Frydenberg. In 1999, I was between jobs, having just left an Operating suite management role, and Harry encouraged me to speak with the representatives from the Lapband company (BioEnterics) to see if I was interested in a change of roles. I began in sales and marketing for the Lapband and continued with this for the next 3 years. I met my now husband and Bariatric Surgeon, David Schroeder at an Australian Obesity Conference in 2003, and moved to NZ the following year. I continued part-time with Inamed/Allergan (formerly BioEnterics) for a few years in NZ whilst concurrently developing new systems for our patients in my husband's clinic. I became the Bariatric Program Coordinator in 2010, and Director of the business in 2013. I have earlier this year finished working clinically as a bariatric nurse and now work primarily in a management role, with an education role during our retreat program.
3. Tell us about your responsibilities in your clinic?
As the Director of the company, and the Bariatric Coordinator of the Weight Loss Surgery business, I am responsible, along with my team, for coordinating all of the programs and processes for our surgical and non-surgical patients. I oversee our second Weight Loss Surgery program further south in New Zealand that I have recently given over the management to the primary surgeon, but remain responsible for maintaining their updates and coordinating their systems. I have weekly team input in our practice and hold 3 monthly planning meetings with our integrated health team where we assess and develop comprehensive support programs, strategies, plans and activities for the following 6 months. I am also responsible for the marketing and promotion of our Weight Loss Surgery clinic, and our retreat program and my nutrition supplement business.
4. What is your favorite part of your job?
My favourite time is when I am facilitating and teaching at our residential retreats, which happen every 3-4 weeks. This is a 4-day live-in program, designed for participants who have had bariatric surgery, as well as those non-bariatric participants who wish to improve self-care, self-love and self-acceptance. The visible transformations we see in our participants from the time they arrive to when they leave is one of the most special feelings and the reason I do what I do. To also see the passion, expertise and encouraging support our team provide in empowering our participants, is truly heart-warming.
5. What can you tell us about the upcoming Integrated Health IFSO conference in Dubai this year?
Since we have established a more robust, supportive framework for the Integrated Health section of IFSO, the conference in Dubai will be a great platform for us as a specialty to gain greater recognition for our role in the bariatric surgery field. With Tracy Martinez at the helm and her expertise in developing IH programs, we received a significant number of excellent presentations/studies and as a result have introduced IH sessions covering many interests within this area and I look forward to being a part of this.
6. What would you like to see happen as we aim to grow the IH component of IFSO?
Further collaboration with our surgical colleagues, increased exposure and awareness of the role of the Integrated Health team is what I would like to see develop throughout Bariatric Surgery globally. Recognition for our important and essential role is paramount, and I hope this becomes more apparent as we grow and strengthen our position within IFSO.
7. What would you like the world to know about bariatric surgery in NZ?
Bariatric Surgery in NZ is surprisingly innovative and progressive for a small country of not only 4 million people, but spread out geographically over a long distance. We have developed some very holistic and forward-thinking programs, and obtain excellent results for our patients through our 'thinking outside the donut' follow-up care programs. Numbers of Bariatric surgery procedures in NZ is only about 1000 per year, with sleeve gastrectomy currently being the primary procedure, however gastric bypass is not far behind. The majority of procedures are done in private and these are generally self-pay, with a small amount being partially covered by health funds. Any health fund covered patients will be at least $15000 out of pocket, with the majority of recipients paying between $19-24,000 NZD for surgery. The publicly- funded procedures are about a third of the total number, however they only have provision for a limited follow-up from the multidisciplinary team.
8. Tell us about your family and hobbies.
I have been married to a Bariatric Surgeon for the last 15 years and I have a 26 year-old son who currently lives in Melbourne, Australia, however we have four adult children between us. I am kept very busy running four businesses but recognize the need to take time out and do self-care. We travel as much as we can, generally to Obesity conferences globally but always tack on a vacation at the same time. I love physical exercise and attend the gym regularly, mostly doing high intensity workouts. I was a runner until a knee injury a year ago, and subsequently have had to give up my registration in the NYC marathon this year ☹ I will instead be a supportive partner for my husband, who I know will do well. We have two dogs and 2 cats and are enjoying spending more time at home with them.

Member Profile Mary O'Kane
Interviewed by Tracy Martinez RN, BSN,CBN
IFSO Integrated Health Chair
What is your professional background?
I am a consultant dietitian specializing in adult obesity in Leeds Teaching Hospitals NHS Trust. I have worked in Leeds since 1983, initially as a Metabolic Dietitian on the metabolic unit, covering Mineral Metabolism (calcium), obesity and gastroenterology. It was the obesity element that attracted me to the post. Whilst my job role has changed over the years, I have always continued to work clinically in obesity.
My first degree was in Biochemistry/Physiology followed by a postgraduate diploma in dietetics. In 2013, I completed my MSc in Advanced Nutrition. My dissertation was titled "Bariatric surgery, vitamins, minerals and nutritional monitoring: A survey of current practice within British Obesity and Metabolic Surgery Society (BOMSS)". This resulted in the publication of "BOMSS Guidelines on perioperative and postoperative biochemical monitoring and micronutrient replacement for patients undergoing bariatric surgery" a year later.
I have contributed to many national working groups over the years including being a member of the clinical guidelines committee for NICE Obesity (2006 and 2015) and also NHS England Obesity Clinical Reference Group (CRG). As a member of the CRG, I led a working group comprised of highly motivated healthcare professionals (surgeons, physician, nurse, general practitioners and public health) and four patient representatives. Between us, we wrote and published "Guidelines for the follow-up of patients undergoing bariatric surgery" in Clinical Obesity. These cover the whole of the follow-up pathway and propose shared care models to enable patients to have access to long term follow-up.
I am a member of the British Obesity and Metabolic Surgery Society and am one of three Allied Health Professionals on the committee.
In 2016, I was awarded Fellow of the British Dietetic Association for my contribution to national work and advancement of dietetic practice.
What lead you into Bariatric Surgery specialty?
I have always been interested in obesity and so was delighted to have the chance to work on the Metabolic Unit and in the Medical Obesity clinic in Leeds – one of only four in the UK at that time! Obesity surgery was already being performed in Leeds and I started to see patients, supporting them before and after surgery. At that time, there was very little literature regarding the diet or nutritional needs and no internet! I knew one other metabolic dietitian who was working in London and also seeing patients undergoing weight loss surgery. We used to speak on the phone and support each other. I learned alongside my patients. The surgeons started to expand the range of surgical procedures including developing the Meganstrasse and Mill vertical gastroplasty, and then moving onto other surgical procedures undertaking the first laparoscopic roux en y gastric bypass and duodenal switch in the UK.
I continued to work in both the medical obesity and surgical obesity services and then approximately ten years ago, we decided to work more as a joint team to enable patients to have a more seamless pathway. I was classed as neutral as I supported patients in both the medical and surgical obesity pathways and so was asked to triage all referrals and lead the multidisciplinary team meetings. I am very fortunate as I have always worked with physicians and surgeons who really value the dietetic role.
Tell us about your responsibilities in your clinic?
I triage all referrals to our medical and obesity services. In the UK, patients going forward for bariatric surgery must spend time in the medical obesity services first. The dietitians, physicians and liaison psychiatry team work closely together in the medical clinic. We assess patients, encourage lifestyle changes and try to optimize comorbidities. For those patients moving forward for surgery, we help prepare them.
I lead the medical and surgical multidisciplinary team meetings and present patients' cases for discussion. Most of the meeting is spent discussing patients who we hope to take forward for surgery. I contact the patient and general practitioner afterwards and let them know the outcome and next steps. We also discuss our more complex cases and it is very interesting to hear everyone's different views.
After surgery, I see patients in the joint surgical clinic and also more frequently in separate dietetic -led clinics. I support patients with behavior changes and look after their nutritional lab results and adjustment of vitamin and mineral supplements. We are currently commissioned to offer two years follow-up for most patients; however patients with complex needs, especially nutritional, will stay under our care for longer.
What is your favorite part of your job?
Patient contact! It is so rewarding helping to support people moving forward through their weight loss journey, improving their health and overcoming barriers and challenges. I enjoy being a MDT member and have learned so much from working with others. I love the variety of the day from being in clinic, triaging referrals, participating in MDT meetings, training of students and other health care professionals but the patient contact is the most rewarding.
What can you tell us about the upcoming Integrated Health IFSO conference in London this year?
The pre-congress Integrated Health day is aimed at improving the long-term aftercare of patients undergoing bariatric surgery. It will open with a keynote lecture from Prof Batterham on bariatric surgery and its effect on type 2 diabetes. The morning continues with four parallel sessions. These all contain excellent speakers covering a range of topics including shared models of care, clinical outcomes, managing weight regain and maintenance, the role of the bariatric nurse in America, recognizing complications. Attendees will be challenged as to which sessions to attend. Following an opportunity for networking over lunch, all attendees come together for the afternoon session. The afternoon topics include patient support group, managing reactive hypoglycemia, contraception and pregnancy and management of nutritional deficiencies. The IH day will be an excellent introduction to the main conference.
What would you like to see happen as we aim to grow the IH component of IFSO?
IH professionals have a significant contribution to make in assessing and preparing patients for surgery and supporting them afterwards. We need to enable IH professionals to be more confident at sharing practice, participating in research and taking the lead in developing relevant guidelines in their areas of expertise. It is important for us all to have a wide overview of each other's practice. Having access to education sessions in which all disciplines (including surgeons) can learn together and be up-skilled should be encouraged. IH professionals often have little access to study leave budgets so even though there are reduced registration fees for IFSO, the cost of travel and accommodation can be prohibitive. It would be good to explore the use of media such as streaming and video links to enable IH professionals to link up and share key presentations. We should consider the development of e-learning modules. We have an active google dietetic group within the UK and it would be interesting to explore using social media for wider networking for IH professionals. We need to encourage patient representation too; this certainly helped on our long-term follow-up guidelines to remember the patient angle.
What would you like the world to know about bariatric surgery in the UK?
We have an excellent professional society –the British Obesity and Metabolic Surgery Society which is a mixture of surgeons, dietitians, nurses, psychologists and physicians who work in the obesity surgery field. The multidisciplinary team work is actively encouraged and reflected in our annual conference with most sessions. BOMSS have set up the National Bariatric Surgery Registry demonstrating the commitment to sharing data and improving patient care. We have National Institute for Health Research supporting the first randomized trial of surgical procedures (gastric band, gastric bypass and sleeve gastrectomy). The SCOT Study is a longitudinal study following all patients undergoing bariatric surgery in Scotland for 10 years. NICE CG189 Obesity recommends bariatric surgery as a treatment option for patients with severe and complex obesity; however we need to make sure that surgery is available to those who will benefit from it.
Tell us about your family and hobbies.
There is a strong Celtic connection as I am from a large Irish family and I married a Welsh man! So in addition to visiting Wales and Ireland regularly, my husband and I enjoy holidays and exploring new places. Being a dietitian, I do enjoy cooking and eating out. To balance that, I swim regularly. I play the violin in the local music center's string group and orchestra – and especially enjoy playing with two of my brothers who play accordion and drums! (They can hide my mistakes!)
Resources
Education articles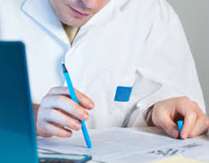 Nursing Assessment of Intraluminal and Intraperitoneal Hemorrhage Following Bariatric Surgery
by Alan C. Wittgrove MD, FACS, FAMBS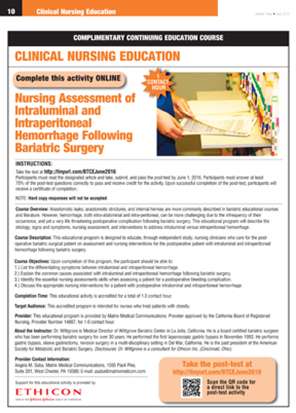 Digital Edition: http://bariatrictimes.epubxp.com/i/693198-jun-2016/10
Website: http://bariatrictimes.com/ce-for-nurses-nursing-assessment-of-intraluminal-and-intraperitoneal-hemorrhage-following-bariatric-surgery/
Post-test direct link: http://tinyurl.com/BTCEJune2016
Late Surgical Complications of Roux-en-Y Gastric Bypass: Afferent Limb and Marginal Ulcer
by Leonardo Claros, MD, FACS, FASMBS, and Thomas E. Sonnanstine IV, MD, FACS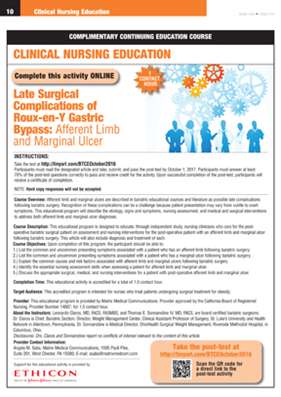 Digital Edition: http://bariatrictimes.epubxp.com/i/736557-oct-2016/10
Website: http://bariatrictimes.com/ce-for-nurses-late-surgical-complications-of-roux-en-y-gastric-bypass-afferent-limb-and-marginal-ulcer/
Post-test direct link: http://tinyurl.com/BTCEOctober2016
Clinical Pearls for Weight Maintenance Following Bariatric Surgery
by Leslie J. Heinberg, PhD; Jessie Fernandez, RD, LD; Holly F. Lofton, MD; Katelyn Castro, ACSM-CPT; and Tracy Martinez, RN, BSN, CBN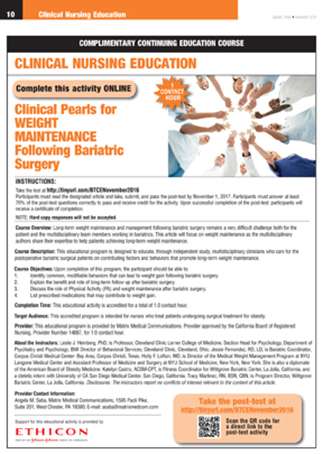 Digital Edition: http://bariatrictimes.epubxp.com/i/742350-nov-2016/10
Website: http://bariatrictimes.com/ce-for-nurses-clinical-pearls-for-weight-maintenance-following-bariatric-surgery/
Post-test direct link: http://tinyurl.com/BTCENovember2016